About us
Executive Summary

Grupo Acosta Verde is a Mexican company established in 1970 in the city of Monterrey, Nuevo Leon, by the architect Jesus Acosta Verde, and currently stands as the leading developer, owner, and manager of shopping centers in Mexico.

A pioneer in the development of shopping centers, Acosta Verde has a solid track record in the planning, development, marketing, management, and operation of community centers in Mexico, having developed 44 commercial properties with more than 1.6 million m2 across 16 states, including the recently opened Sendero Santa Catarina (March 2021), in 16 states.

In 2002, Acosta Verde developed the Sendero community center concept and brand, a proven model of shopping centers noted for its successful track record in terms of occupancy and high visitor traffic.

As of December 31, 2020, Acosta Verde's portfolio consists of 16 Sendero shopping centers in which the Company has a significant stake. In addition, Acosta Verde receives fees from managing 4 shopping centers built for third parties.

The Company was created as a private corporation (sociedad anónima de capital variable) under the corporate name Valores Integrales Inmobiliarios, S.A. de C.V., on November 15, 2001. Subsequently, on September 23, 2020, the stockholders approved the comprehensive amendment of the Company's bylaws to transform it into a publicly traded company (sociedad anónima bursátil de capital variable), in preparation for Acosta Verde's initial public offering in the Mexican stock market (the Company issued local notes in 2007 and 2015), which took place through its merger with Promecap Acquisition Company or "PAC" (absorbed company), modifying the Company's corporate name to Acosta Verde, S.A.B. de C.V.

Consequently, Acosta Verde became the first company to list its shares in the Mexican stock market through a business combination with a special purpose acquisition company (SPAC). The Company's shares are listed on the Mexican Stock Exchange ("BMV") under the ticker symbol GAV.

In addition to Promecap, since 2015, Acosta Verde has Equity International as a shareholder, having two important allies to strengthen its corporate governance.

Acosta Verde's corporate headquarters are located at Avenida Pedro Ramirez Vazquez No. 200-1, Colonia Valle Oriente, San Pedro Garza Garcia, Nuevo Leon, Mexico, 66269, with telephone number +52 (81) 1001- 9800.
About Us

We work with a strong commitment of loyalty and sensitivity to our clients, whether they are tenants or consumers. At the heart of our success has been recognizing growth opportunities, understanding market needs and satisfying them, working hand in hand with leading brands such as Soriana, Casa Ley, S-Mart, Merco, Cinépolis, Woolworth, Coppel, Del Sol, Suburbia, Promoda, among others.

By developing shopping centers, we transform traditional shopping into a natural, pleasant, and comfortable activity for customers, incorporating entertainment and community features that today are a core component of Sendero shopping centers, in accordance with market trends and changes in consumer preferences. In addition, we promote a healthy work environment for our tenants and its employees.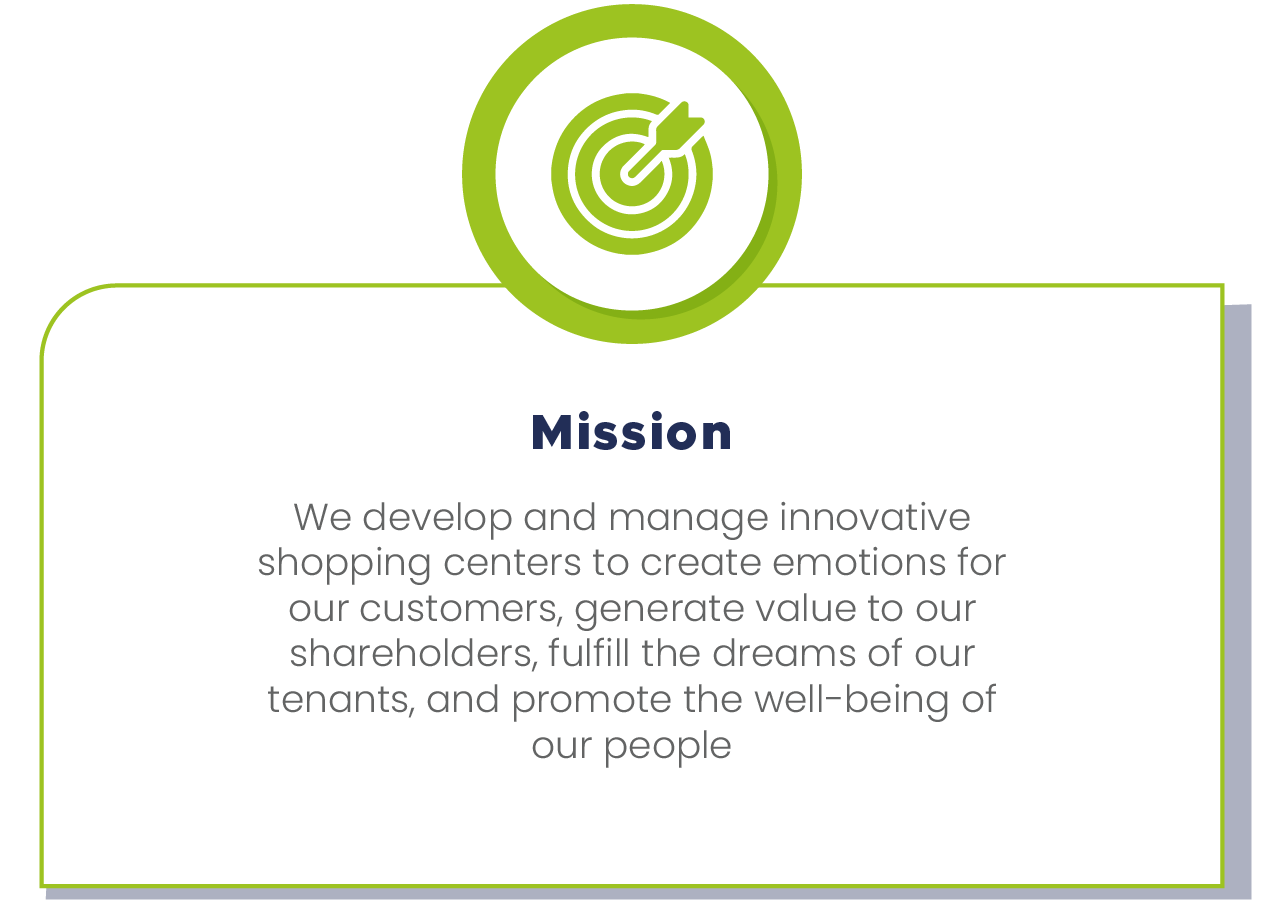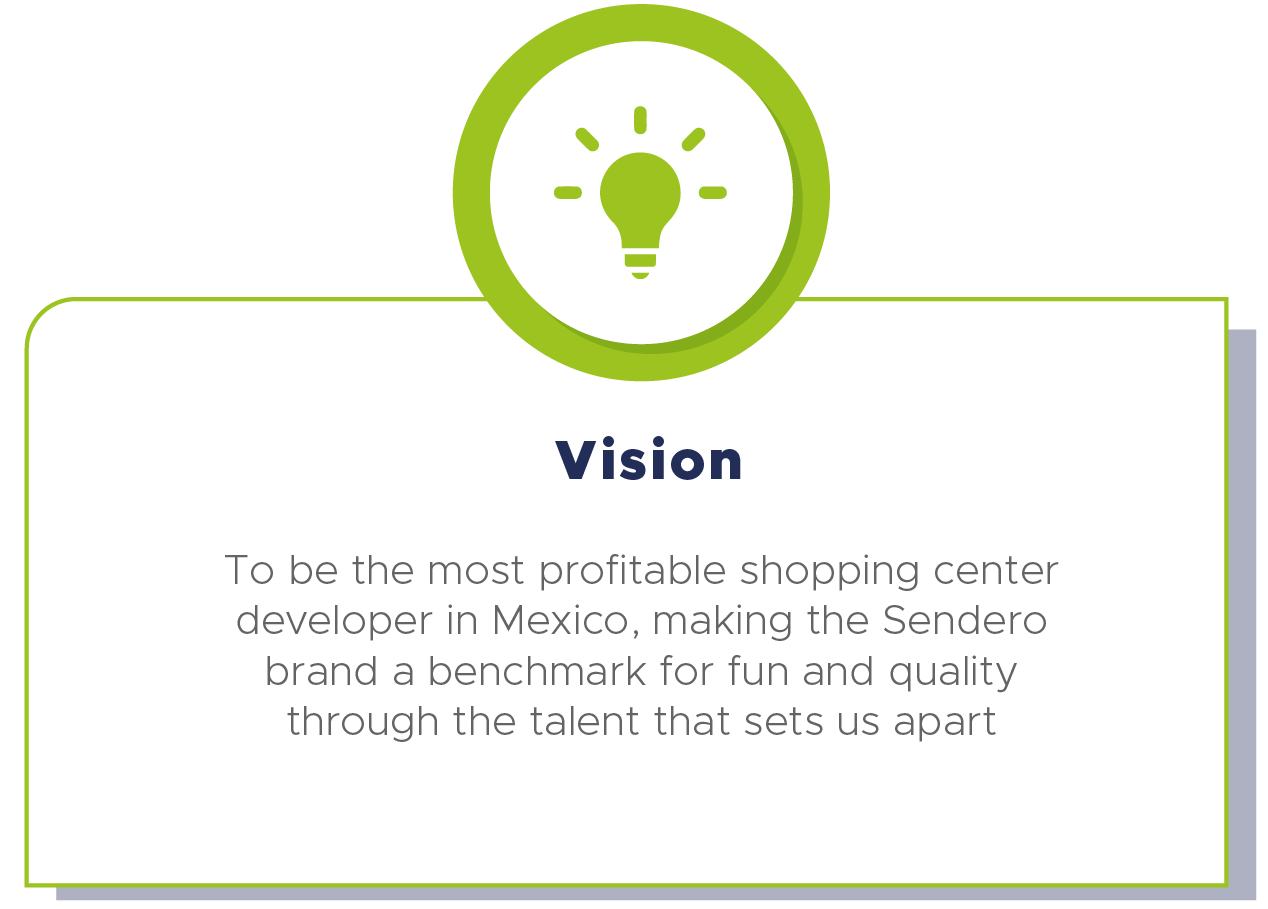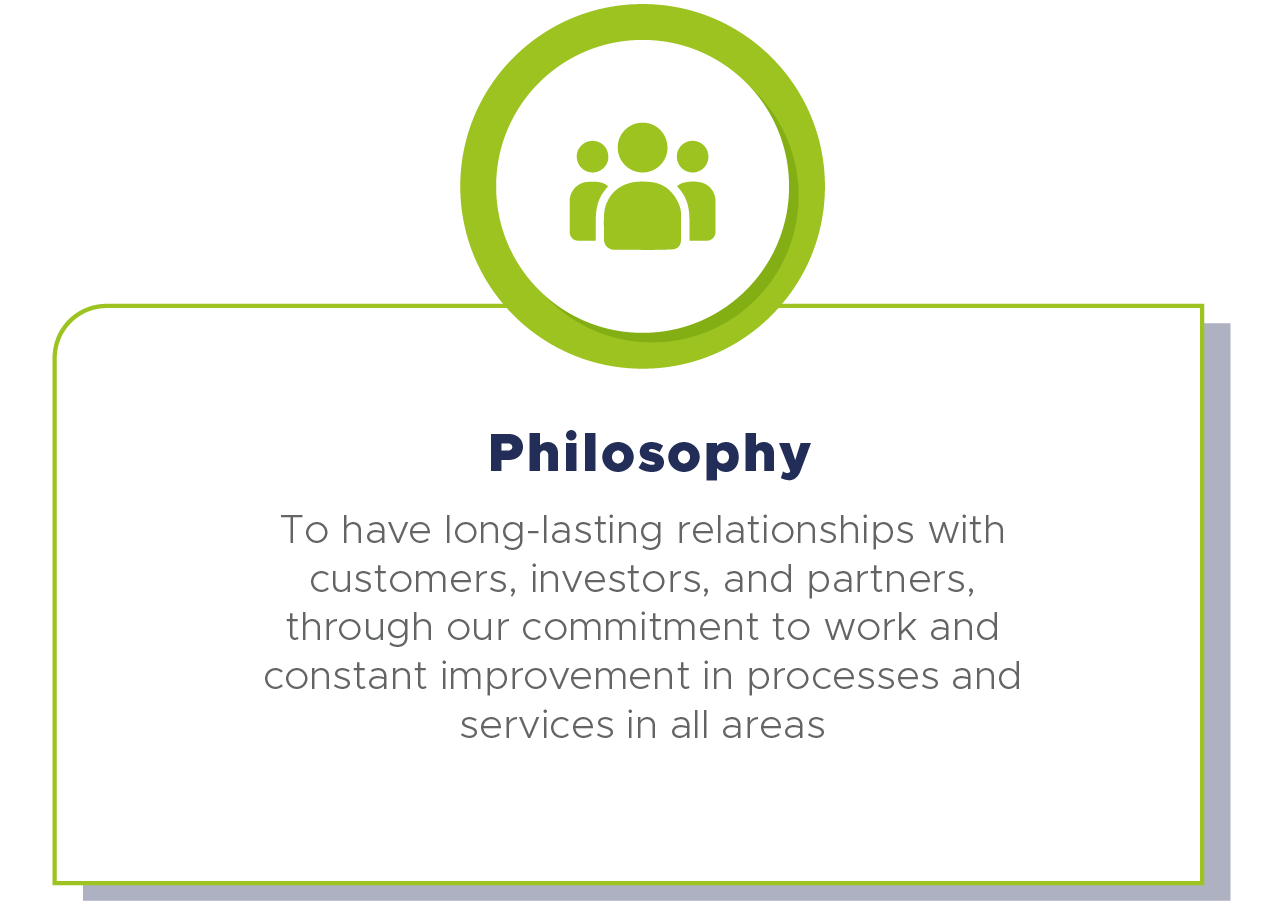 Our Values
Business Segments
Shopping Centers
Leasing of premises and common areas

The attractive locations of our Sendero shopping centers (on major avenues in metropolitan areas and secondary cities in Mexico where there is an under-penetration of community centers), together with their focus on the shopping experience (first class amenities, events, promotions, among others) and strategic tenant composition (mix of essential businesses and services with diverse entertainment options), ensure a steady visitor traffic that impels businesses to rent a venue in Sendero to grow together with Acosta Verde.

Parking

Along the same lines, the high flow of visitors that defines Sendero shopping centers together with the car traffic that this entails, contributes with a revenue stream given the parking fees charged.
Advertising

The affluence in the shopping centers offers a great advertising opportunity for brands. Whether indoors or outdoors, brands that advertise in Sendero are closer to their customers, and especially to their decisions to purchase products or services.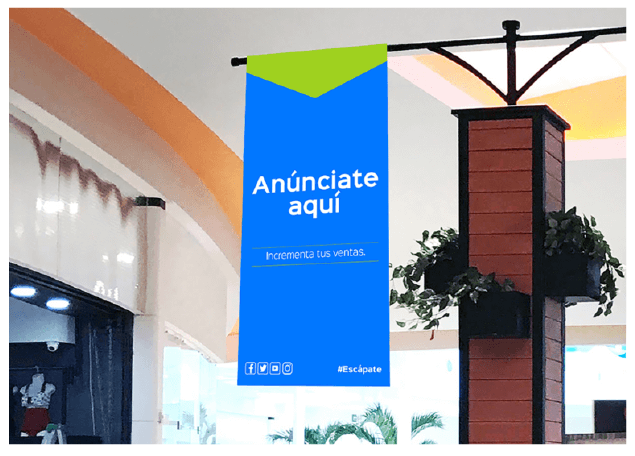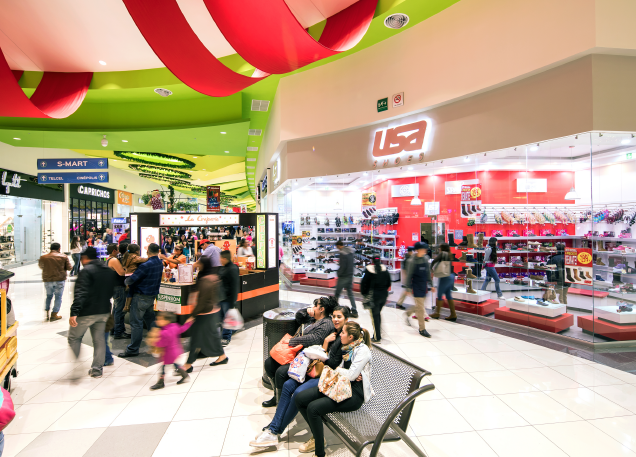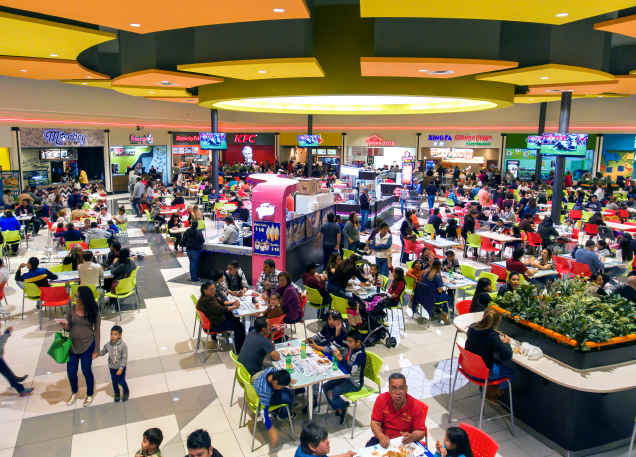 Shopping center Management

Over the years, we have perfected a dynamic, innovative, and 100% customer service-oriented shopping center management strategy.

Acosta Verde's more than 30 years of proven experience in delivering tangible and substantial results, hand in hand with the expertise of our specialized professional team, allows us to provide an integral service for the management of shopping centers, covering security, cleaning, maintenance, brand image, financial, commercial, marketing, and legal services.

Our goal is to create a clean, safe, and healthy space where visitors can enjoy a pleasant shopping and entertainment experience for the whole family. In short, an attractive space that generate shareholder value.

During 2020, the safe operation of Sendero shopping centers was essential to remain a reliable environment for visitors.

Acosta Verde developed a robust protocol for the implementation of measures and actions to prevent the spread of COVID-19 in Sendero shopping centers. These actions were adopted and designed based on the guidelines established by local, state, and federal authorities.

This protocol includes measures to protect visitors, tenants, and employees within the shopping centers. One of the greatest successes in our experience managing shopping centers is ¡Revoluciona tu Sendero!, a program launched in 2012 and developed entirely by our team, where we teach sales skills and customer service techniques.

Aware that the success of our shopping centers is measured by the preference of consumers and the satisfaction of our tenants, we offer our tenants lectures aimed at improving customer service, and proper training to all the people working in our shopping centers.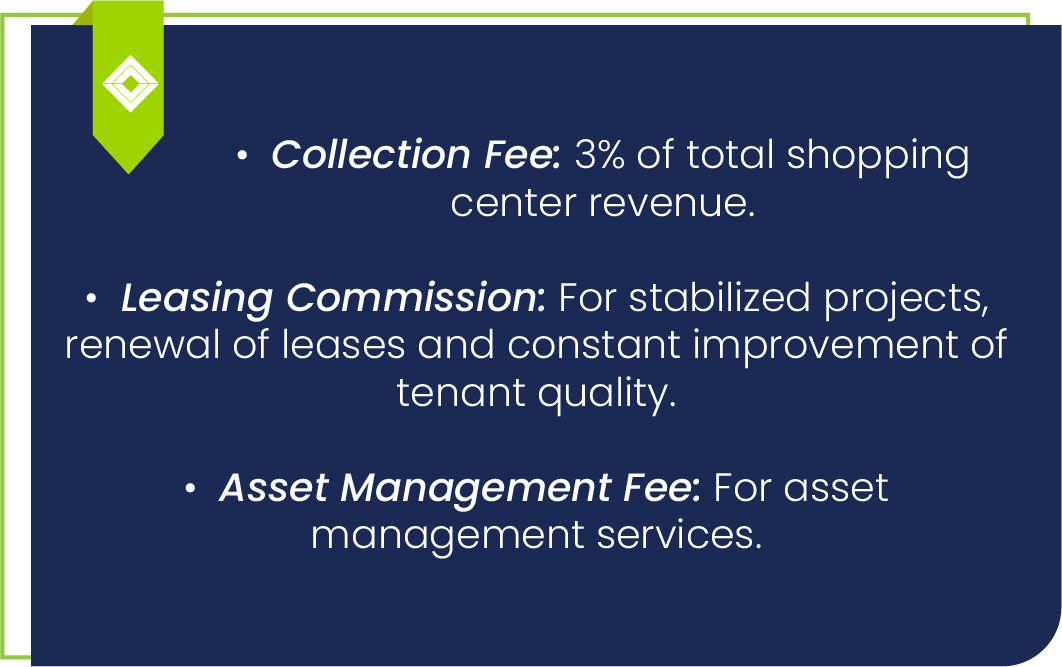 Shopping center Development
Development Fee: 8% of the cost of land plot and construction.
Development Process: It only takes Acosta Verde 10 months to develop a shopping center.
Leasing Commission: Initial leases, the minimum between 5% of the contract value and the equivalent of 3 months' rent.
A highly parameterized scheme is followed, which enables control of development schedules and costs.
The total investment is approximately Ps.700 million plus VAT.
The aim is to support the growth of the main anchors through the selection of suitable land plots.

Our Journey

1970
Architect Jesús Acosta Verde founds Acosta Verde, a leading Mexican company in the development of shopping centers in the country

1986-2001
Acosta Verde develops 12 shopping centers for different investors, such as Soriana and Grupo Garza Ponce. Among these shopping centers are Plaza Comercial La Fe (1993), Plaza Jacarandas (1994), and Plaza Del Río (1994), which as of the date of this report are still managed by Acosta Verde

2001
Acosta Verde was incorporated as a private company on November 15, 2001 in the city of Monterrey, Nuevo Leon, with an indefinite duration
2002
Acosta Verde builds Plaza Sendero Escobedo in Nuevo Leon, the first community center under the Sendero brand

2005
Acosta Verde enters into a joint venture with PREI for the construction, financing, and management of community centers; a relationship that helped strengthen the Company's institutional practices

2007
Acosta Verde carries out its first issuance of local notes on the Mexican Stock Exchange ("BMV"), for an amount of Ps.1,130 million, under the ticker symbol "ACOSTCB07"

2010
Acosta Verde sells to PREI 3 properties located in Monterrey, Merida, and Los Cabos; which continued to be managed by the Company

2011
Acosta Verde sells its stake in the properties to PREI, ending the joint venture, through which 7 shopping centers were developed, remaining under the Company's management

2014
Acosta Verde develops three shopping centers for third parties: Sendero Coatzacoalcos (today Plaza Acaya Coatzacoalcos), Sendero Mazatlan (Acaya Mazatlan) and Sendero La Fe, in Apodaca, Nuevo Leon

2015
• Acosta Verde ceases to manage the 10 PREI shopping centers
• Acosta Verde carries out its second issuance of local notes in the BMV, for Ps. Ps.3,000 million, under the ticker symbol "ACOSTCBB015"
• Acosta Verde enters into an alliance with Equity International and receives its initial investment

2017
Acosta Verde receives second investment from Equity International

2019
Acosta Verde initiates its Business Combination process with Promecap Acquisition Company ("PAC") through PAC's acquisition of stock ownership in Acosta Verde

2020
Acosta Verde's shares are listed on the Mexican Stock Exchange. This is the result of the merger of Acosta Verde with PAC (absorbed company), becoming the first company to list in the Mexican stock market through a merger with a special purpose acquisition company
2020 Highlights
On February 7, following the approval of PAC's shareholders and the Mexican antitrust watchdog (Comisión Federal de Competencia Económica), the alliance with PAC was formalized through a capital increase in our holding company.
Towards the end of March, in the wake of the sanitary contingency, we successfully implemented the health protocols established by government authorities in all Sendero shopping centers, pioneering their adoption. In this sense, Acosta Verde drafted a robust protocol for the implementation of measures and actions to prevent the spread of COVID-19 in Sendero shopping centers. These measures were adopted and designed following the guidelines set by local, state, and federal authorities.
On September 30, through our holding company, we carried out the necessary actions to list our shares in the Mexican Stock Exchange ("BMV"), register them in the National Securities Registry (Registro Nacional de Valores, "RNV"), and finally, become a publicly traded company, under the corporate name of Acosta Verde, S.A.B. de C.V. and with ticker symbol "GAV".